Coastal Living Magazine presents
Jack Johnson's Ocean Heroes
and the new documentary film
THE SMOG OF THE SEA
October 12, 2017
7:30 p.m.
Co-Sponsored by ECOPEL
Coastal Living Magazine has partnered with singer-songwriter, surfer, and environmentalist JACK JOHNSON to curate a list of scientists, advocates, visionaries, and deep sea legends who tirelessly fight to protect our seas from peril. These remarkable Ocean Heroes and their missions are celebrated in the November issue of the magazine.
"It's easy to think that the ocean is so vast it can take care of itself," Johnson says. "But that's really not the case anymore, as I've come to learn when I travel and talk with these experts. When the expeditions are completed, or when we speak away from the cameras, our conversation continues—and it's a conversation I hope you'll join."
To do so, plan to attend a special screening at The Picture House in Pelham, NY, on October 12. The film documents one Ocean Hero's eye-opening and alarming journey to measure the impact of plastic waste in our oceans. Prior to the film, you'll also preview the works and words of every Ocean Hero who made the magazine's list, plus be introduced to a new youth group (PEP, or Pelham Eliminates Plastics) that aims to tackle the plastic waste problem locally.
Co-sponsor Ecopel is giving each audience member a customized, reusable canvas bag with a complimentary copy of the October issue of Coastal Living. Additional eco-friendly co-sponsors and gifts to be announced. Special guests also in the works.
ABOUT THE SMOG OF THE SEA
The Smog of the Sea chronicles a one-week journey through the remote waters of the Sargasso Sea. Marine scientist Marcus Eriksen invited onboard an unusual crew to help him study the sea: renowned surfers Keith and Dan Malloy, musician Jack Johnson, spear fisherwoman Kimi Werner, and bodysurfer Mark Cunningham, who became citizen scientists on a mission to assess the fate of plastic waste in the world's oceans.
After years of hearing about the famous "garbage patches" in the ocean's gyres, the crew is stunned to learn the patches are a myth: the waters stretching to the horizon are clear blue, with no islands of trash in sight. But as the crew sieves the water and sorts through its haul, a more disturbing reality sets in: a fog of microplastics permeates the world's oceans—trillions of nearly invisible plastic shards making their way up the marine food chain and right back to us. You can clean up a garbage patch, but how do you stop a fog?
Using nostalgic super-8 footage, sparkling underwater cinematography, an original score by Jack Johnson and his shipmate Simon Beins, and live action footage of the crew's research, The Smog of the Sea provides a new perspective on the once pristine oceans, and makes an artful call to action for rethinking the scourge of single-use plastics.
Directed by Peabody Award-winning and Emmy-nominated filmmaker Ian Cheney (King Corn, The City Dark, The Search for General Tso).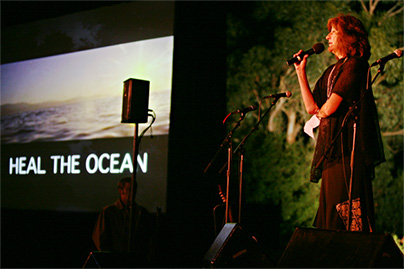 About Hillary Hauser
Hillary Hauser is a recognized photojournalist with a focus on the ocean – adventure, politics and conservation.
Born in 1944 in Palo Alto, California, she studied at the University of Washington, graduating in 1966 with a Bachelor of Arts in English Literature. She moved to Los Angeles to join the staff of T.V. Guide as a National Programmer. She started scuba diving in 1966, got certified in 1968 (NAUI card #54990), and moved to Los Angeles to become Skin Diver Magazine's assistant editor. Underwater cameras were beginning to capture detailed pictures of undersea creatures, including tropical fishes, and Hauser began the popular "Fish of the Month" feature, which became The Book of Marine Fishes.
In 1977 Hauser became publicist for the Diving Equipment Manufacturers (now Marketing) Association (DEMA), and came up with the bumper sticker program, "Discover Diving," a label that
went on to become a major promotional jingle in the dive world, as well as a title to a magazine. Hauser has published six books about the sea, as well as numerous articles about underwater adventure for National Geographic, the Los Angeles Times Sunday Travel section, Esquire, Redbook, Geo, Readers Digest, The Surfer's Journal, among others. She was West Coast stringer for Ocean Science News (Washington, D.C.) and a reporter on ocean issues for the Santa Barbara News-Press from 1981 to 1986.
As a diving journalist, Hauser became known as the "Diver of the Strange and Bizarre," for her exploration of the sinkholes of South Australia for National Geographic, diving into Devil's Hole, a flooded earthquake fault in Death Valley, California, and her diving the notorious big wave reefs of the world: Waimea, Jaws, Pipeline and Mavericks.
In August 1998, in response to the terrible situation of local beaches being posted closed because of pollution, Hauser
co-founded and is the Executive Director of Heal the Ocean, an internationally recognized citizens' action group in Santa Barbara, California. Heal the Ocean www.healtheocean.org has accomplished trailblazing work, the kingpin being the removal of septic systems from seven miles of south Santa Barbara County coastline. For this, and other work, Hauser has been commended with recognition from the U.S. Congress, as well the Central Coast (California) Regional Water Quality Control Board (2006, 2008), the California State Assembly (2009), and in 2-13 more recently a Joint Assembly/Senate Resolution (No. 404) from the California Legislature (Jackson/Williams).
"Hauser has been commended with recognition from the U.S. Congress"
In 2009 Hauser received the venerated NOGI Award from the Academy of Underwater Arts and Sciences for Distinguished Service. In 2013 the Academy elected Hauser as President of its Board of Directors.
As a lifelong classical pianist, Hauser was a classical music reviewer for the Santa Barbara News-Press from 1981 through 1996. In 2000,
she created, with John Robinson, the record label Tavros Records, wherein she produced recordings of Rachmaninoff Trios and Chopin solo piano solo works that have won high ratings in the Penguin Guide to Recorded Classical Music.
Hauser's work has been frequently anthologized, including Textbook for Advance Level English (Newbury House), Invitations to Literacy (Houghton Mifflin), and Life Touched with Wonder (Reader's Digest). Her poetry has been anthologized in An American Poetry Anthology.